Sports complex in Balaruc-les-Bains: Winning Entry
The architectural agency Archi5 Prod won the competition concerning the planning of La Fiau meadow at Balaruc-les-Bains with the creation of a sports hall.
Balaruc-les-Bains is a city in the South of France located int the Herault county and this new cultural and sport project will be built near the Thau lake. It will include :
Tracks for athletics
Sports fields for football and courts for tennis
Areas for paddle tennis etc…
A sports hall
A multipurpose and modular hall designed to welcome entertainment, exhibitions, salons and banquets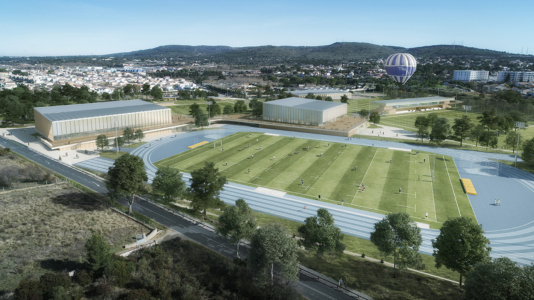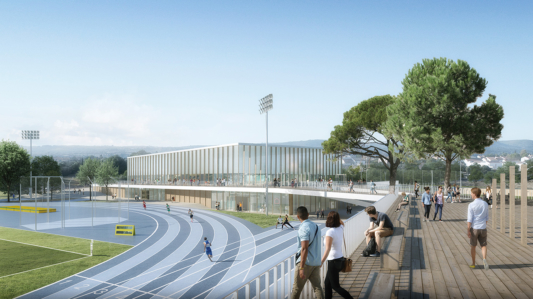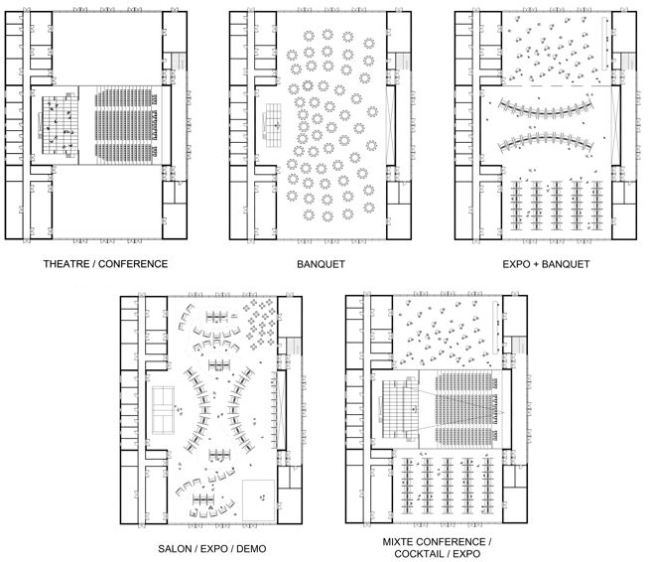 The multipurpose and modular hall is designed in the middle of the piece of land. Like a lighthouse, this building will enjoy a great visibility within the landscape and a viewpoint onto the esplanade.
A set of landscaped walkways and panoramic flat areas link it with the sports hall and the football center. This suggests common sports events : these 3 facilities could be combined for specific global events (interclub or associations meetings, exhibitions, celebrations, performances, banquets…).
Thanks to partitions and curtains, the hall surface area will be able to be divided into 3 parts :
The central unit, which is mostly meant to live shows, is designed whit a height dedicated to stage happenings. It will benefit from update technical stage fittings (stage, control room, grid, telescopic stand of 500 seats…)
The other 2 parts are mainly dedicated to meetings, banquets and salons. They offer gorgeous picture windows and views to the outside.
According to the nature of events the modular hall made up with different units, will be able to adapt its size by adding or removing some units.
Owner
City of Balaruc les Bains
Consultants
Archi 5
Consultants
dUCKS Scéno : Scenography
Acoustb: Acoustics
Cost
EUR 25 M
Surface
Sports Building : 11 300 m2
exterior : 17 ha