Ducks In China,
Focus On Our
Shangai Team
dUCKS scéno works in China for 15 years and is implanted in ShangHai since 2016.
A team of 3 people has for mission to inform the architects and the chinese clients of the major importance of the scenography and the museography in the cultural projects but also in all the places of performance as conference center, media libraries, museums, stadiums, arenas, shopping malls…
The scenography as the technical mission mainly turned to the inspiration of the artist, the comfort of the public and the ease of functioning.
dUCKS scéno defined itself as advisor and strength of operational proposals with the clients, and develops the technical concepts in close collaboration with the architects, the acousticians and other consultants of the project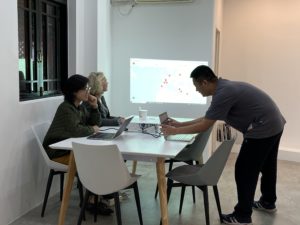 The Team
Isabelle Serré – Chinese subsidiary supervisor
Isabelle began her career in the theater as an assistant director, stage manager and costumer. She enlarged her experience in film, video clips and advertising, as a script girl and an assistant producer. Later, she worked as a freelancer with choreographers and fashion designers on projects combining dance and fashion, and was road manager for various music artists. In 1992, she went with a small team to Syria to produce Romeo and Juliet in Arabic for the AFAA (French Association for Artistic Action). She stayed 15 years in Syria and worked on various architecture, advertising and design projects. She also organized sport and culture events in Lebanon, Jordan and the United Arab Emirates, and in Syria with the French cultural agency in Aleppo, providing her organizational and creative advice.
Back in France, she started to work at dUCKS scéno in September 2007 as a project manager in the machinery department. She coordinated study and construction phases for the scenography work packages.
Since 2015, Isabelle has been one of the five dUCKS board members and has filled the position of administrative coordinator. She takes part in the organization and running of the company's management, commercial relations, human resource management, administration and contact management. She coordinates the implementation of the board's decisions. Since June 2016, she has been in charge of the creation and establishment of dUCKS scéno Chinese subsidiary in Shanghai.
Vivian Yin – Business development manager

Bachelor' s Degree in Arts Management, Nanjing University of the Arts. 2011
Vivian Yin obtained her Bachelor's Degree (2011) in Arts Management from Nanjing University of the Arts. During her studies in the comprehensive arts university, she was inspired by all kinds of art forms. After graduation, she's been working in Contemporary Art Industry for more than 8 years in Shanghai, experienced SH Contemporary Art Fair and the work of art magazine and gallery.
Vivian joined dUCKS in April 2018, starting a slash career in both Architecture and
Contemporary Art (Antenna Space, Shanghai).
Yifei Zhu – Project Manager
Project Manager, Graduated in 2014
University of New South Wales, Sydney
Bachelor degree : Civil Engineering
PMP Certified in 2015
Yifei Zhu studied 4 years in Australia and obtained his Bachelor degree in Civil Engineering from University of New South Wales in 2014 and got his PMP Certification in 2015. His career started in Shanghai Xian Dai Architectural Design (Group) Co., Ltd in project management field in 2015. He has project management experiences in different parties and project experiences in different fields.
Yifei started with dUCKS sceno in May 2018 as a project manager in Shanghai Office and will deliver the projects in china.
Projects