Brest National Lighthouse Museum
In February 2019, the project team led by the architectural company Moreau-Kunusoki won the competition for the rehabilitation of the 1st Eperon of the port of Brest in a National Lighthouse Center. dUCKS scéno produce the scenography of the permanent exhibition.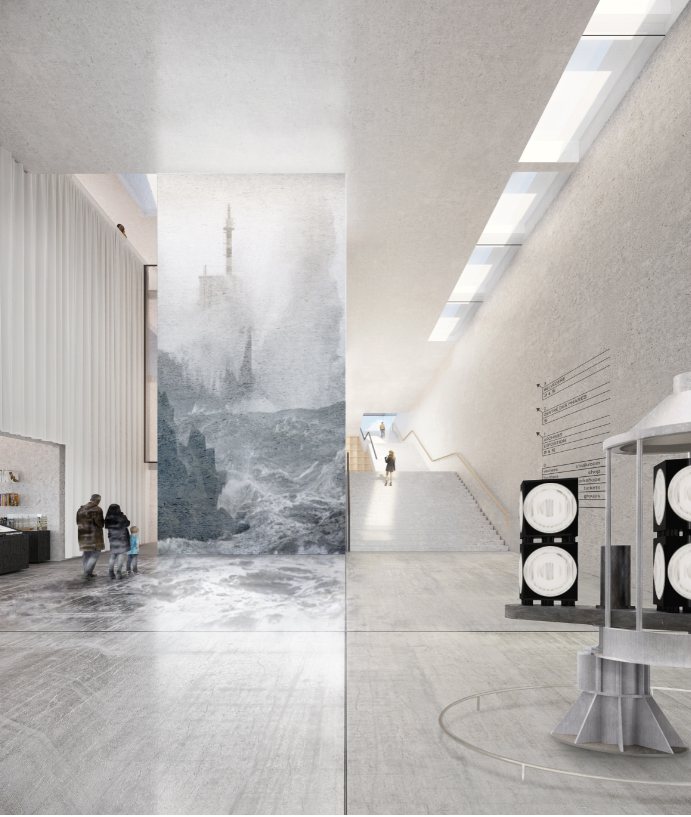 The lighthouse interpretation centre is located on the 1st Eperon in the port of Brest. A project with a resolutely modern architecture, the museum is a centre for observing maritime navigation, its heritage, its codes, its signs and its trades. Scenography is in synergy with architecture. It is an encounter between discourse and space, between inside and outside, between shadow and light, between science and the field of the sensitive, between observation and understanding.
The exhibition's preamble, "Terre de Phares", begins at the reception hall.
The projection literally crosses the reception hall to the permanent exhibition space.
This verticality recalls the verticality of the lighthouse and offers this necessary monumental scale to evoke both its architecture, its «fires», its signature but also its environment and the forces of the elements, thus plunging the visitor into the marine universe.
The permanent exhibition takes place upstairs facing the sea.
The blue line, support of the speech and the scenography takes place throughout the 3 sequences: the sea, the men and the techniques thus offering both unique experiences and a continuum.
It is a place for all audiences, inviting to discovery and travel.